The big advantage of the home garden is that the plants are under our daily control. But for such gardening, there are a number of features. Vegetables can be grown even year-round. But the expected result will not always be obtained, you will have to work hard and even spend money financially. What moments need to be considered?
Varieties of vegetables for growing in the apartment
The range for growing on the balcony (loggia, windowsill) is very diverse: dill, basil, indau, spinach, cress, parsley, coriander, mint, rosemary. There are excellent representatives for container growing among the nightshade: tomatoes, peppers, eggplants, and even potatoes. From climbing crops a good crop will turn out at cucumber, beans, peas, even melon and watermelon will form a decent crop with proper care. With root vegetables at home growing more difficult, but realistic. Homes on the balcony can grow carrots, radishes, daikon.
Selection and seed companies have created a special series of seeds for home gardening – the "Four Summers" series, for example. But you can choose varieties and hybrids themselves, taking into account some features. Choose early-ripe, small-fruited, high-yielding hybrids and varieties with a compact form of plants.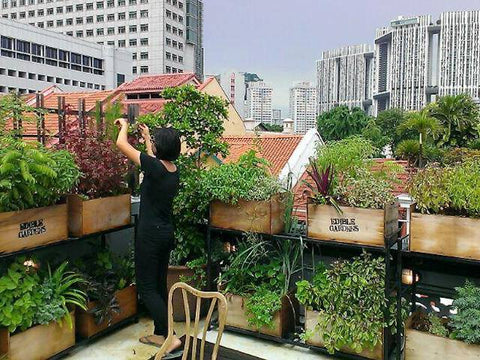 Ramblin Gold Stripe, Yellow Cap, Megabyte and  Red Placer show themselves well out of tomatoes at home. Parthenocarpic F1, Matilda F1, Santana F1 are successful among cucumbers. From the basilica worth trying fine-leaved forms Naughty, Fresh, Bush.
Optimum dates for sowing seeds
Enthusiastic plant growers do not stop the difficulties, and at home hydroponic technologies and modern phytotrons with controlled microclimate, especially for growing plants, take root for a long time.
For a guaranteed harvest, it is recommended to sow the seeds in the same traditional terms as when growing vegetables at the dacha. First, it is fully consistent with plant biology. Secondly, you do not have to configure a long additional supplementary lighting, maintaining the right temperature and use a large number of fertilizing plants.
So, in the middle band greens can be sown from late March to late August. Tomato, pepper, and eggplant – at the end of January, cucumber and root vegetables – from the end of March.
Container size and soil
For a tomato and cucumber, a 5-liter pot is enough, 2–3 l of beans, 5 l of a zucchini, greens – any container is 7 cm high or so.
It is desirable to use soil for plants ready, universal for vegetable cultures. It excludes the presence of fungal and bacterial diseases. It is often filled with fertilizer complex, which is important at the initial stage of growth. If there is a desire to use the "garden" soil, then it must be taken from the site where similar crops were not grown before. And it is better to disinfect it in one of the ways: calcined in the oven, shed with boiling water, disinfect with a weak solution of potassium permanganate. It is important for each plant to provide drainage in the container so that the root system does not rot out due to an excess of moisture.
The choice of the place of cultivation
The best lighting will be on the balcony or window located in the south or east.
In the future, not every culture prefers direct sunlight. To ensure comfortable conditions, you need to shade the balcony windows so that the leaves do not get burned.
If the balcony is on the north side and there is a desire to grow vegetables and herbs with your own hands, then there is no need to do without light. This is especially necessary for the period when the seedlings are grown. There are several solutions: use home lamps, purchase specialized ones. For good growth, plants need light from 8000 lux. To date, such a number of suites can give a lamp type "Reflax".

Watering and feeding plants
Watering the plants need water at room temperature (+20 … + 22 ° C) and ensure that the soil did not dry. Due to the drying out of the soil, the development of the plant will be uneven, during flowering it can throw off flowers and buds, and sometimes even leaves. As necessary, you need to loosen the soil crust, if watering is carried out over the ground.
Feeding on green cultures, as a rule, do not hold. They need more tomatoes, peppers, eggplants, cucumbers, and watermelons. The main thing here is not to overfeed: due to excessive intake of mineral fertilizers, the roots can suffer and the plant will die. It is better to "underfeed" their wards. Feedings are carried out with any complex fertilizers once every 20 days after 2-3 weeks after transplanting seedlings to a permanent place. The norm specified in the instructions can be divided into 2 times. At the time of budding need to feed fertilizers with calcium, magnesium, and boron, then the fruiting will be abundant.
Forming plants
Considering that plants from special seed series are often compact, they do not need to be formed. But a number of cultures have their own characteristics. Thus, as it grows, basil needs pinching of the shoots, due to this technique, it will acquire a spherical shape. Cucumber and tall tomatoes form in 1 stem, removing all side shoots. At the melon and watermelon, they tie up all the lashes, carry out pollination manually and leave 1-2 fetuses on each lash. Low-growing tomatoes, peppers, and eggplants do not need to be formed.
Love what you do
The right choice of variety and timely care is half the battle. Without love and creation success is not achieved.
Tasty and healthy crops all year round!