In your own garden and garden, you can grow a lot of useful medicinal plants. Many of them have not only medicinal properties but also spicy and aromatic. And besides, they all primarily decorate the garden.
Dill smelly (dill, sprinkled, Koper) in Latin is calledAnethum graveolens. Dill preparations have vasodilating, diuretic, anti-inflammatory and antiseptic properties, stimulate the separation of gastric juice.
The medicinal dandelion (Taraxacum officinalis) has many nicknames in Russian – hollow, kul-baba, cannons, powder puff, milk jug, honeycomb, baller, miller, tooth root, hare, millet, cotton grass. Dandelion roots and grass are used as bitterness to whet your appetite. Its roots are used as a choleretic and diuretic.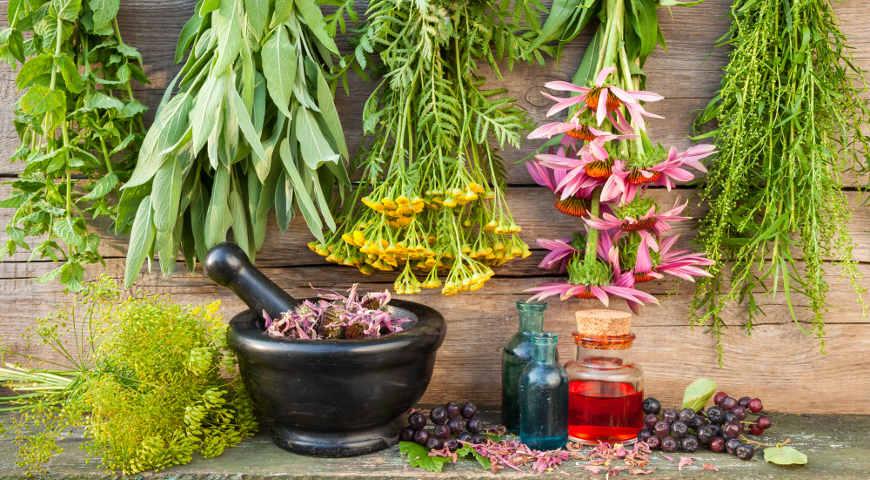 The coriander seed (Coriandrum sativum) is also called cilantro, hornbill, and seedlings. It has wound healing, hemorrhoidal, choleretic, analgesic, antiseptic and enhancing properties for the activity of the digestive glands.
Common raspberry (Rubus idaeus). Preparations of raspberry improve the function of the stomach, intestines, have antiseptic, analgesic, antipyretic, expectorant, anti-inflammatory, antiemetic and metabolism restoring action.
Melissa officinalis (Melissa offocinalis) is also known aslemongrass, lemon balm, citron-melissa, mother liquor, censer, mead, beekeeper, paparnaya grass. Melissa preparations are used as a sedative, analgesic, anticonvulsant, analgesic, anti-influenza and heart remedy. When ingestion slow down breathing and heart rate, tachycardia attacks, reduce heartbeat, shortness of breath, heart pain, lower blood pressure, relieve smooth muscle spasm, stimulate appetite, eliminate vomiting, bloating, help with neurosis.
Rowan ordinary or mountain ash red (Sorbus aucuparia) has choleretic and diuretic properties, as well as anti-inflammatory, hemostatic, capillary-strengthening, vitamin, astringent, mild laxative, diaphorescent, lowers blood pressure, increases blood clotting, and is used as and blood cholesterol. This quality mountain ash is used in atherosclerosis.
Peppermint (Menta piperita) is also called English mint, cold mint, ice cream. Mint has a warming and astringent effect.
Stinging nettle ( Urtica dioica ) – pug, strelkana, Kostyrka, sporekusha, nettle. Nettle is a multivitamin plant. It is rich in organic and minerals, trace elements. Among them are flavonoids, nicotine, acetylcholine, histamine, coumarins, iron salts, manganese, copper, potassium, calcium, barium. It has a bactericidal, hemostatic, wound healing, diuretic, choleretic effect. Improves the activity of the heart, stomach, intestines, liver, kidneys, blood composition.