Everybody tells you to eat 5 fruits and vegetables a day? Easier to say than to do, right? There are however very simple and clever solutions to grow your vegetables at home. Whether on your balcony, in your garden, in your kitchen or in a closet, anything is possible! Learn how to grow cherry tomatoes or onions with hydroponics to grow vegetables all year long and much faster. Or opt for outdoor growing and build a small garden square! There are really a multitude of ways to grow your own vegetables … it only needs to take the hand. Look !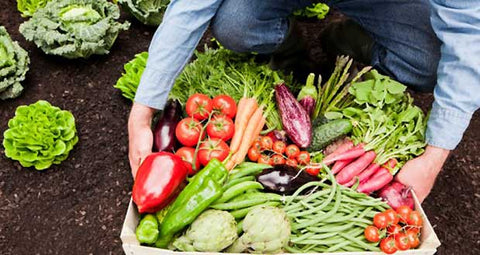 Hydroponics 
You have to eat 5 fruits and vegetables a day, easy to say but hard to do.

 

You can grow your own vegetables in your kitchen or on your balcony.

 

There are solutions allowing you to get your own vegetable crops in a small space and especially without land.

 

Having your own home is possible thanks to hydroponics.

 

This method allows you to grow vegetables, fruits and flowers all year long.

 

As the term itself indicates, hydroponics is a mode of cultivation using water instead of soil to develop plants.

 

More precisely, a liquid nutrient solution is used.

A very powerful sodium lamp will replace the sun and reproduce its rays.

 

A salad planted using this technique grows 5 times faster than a salad planted in the ground.

 

Rest assured that fruits and vegetables keep their taste as if they were grown in the soil.

 

You can a small cabinet dedicated to this method to tidy up your plants.
The aeroponic culture 
T

o plant above-ground vegetables, there is also another technique such as a central aeroponic which is very easy to set up.

 

This device was set up by NASA for astronauts.

 

Aeroponics consists of installing the small seed kits that come with the device.

 

The central is equipped with a kind of reservoir containing the liquid supplying the plants with nutrients.

 

In just 25 days, you can harvest salads or herbs thanks to this system without soil or sun.
The Smart garden As for those lucky enough to have a terrace or a balcony, they have the possibility to cultivate outside thanks to the mini square vegetable garden.
Just take four 90cm boards and fill with potting soil.

 

Thanks to the square, there is no risk of overproduction because you plant a small amount at a time.

 

To order varieties, it is best to divide the square into four.

 

In each small square thus produced, it is, therefore, possible to plant different vegetables.

 

Ignore bulky vegetables like cabbages and potatoes, instead prefer dwarf forms and fast-growing plants.

 

You can plant for example basil, thyme, lettuce or strawberries.

For an organic garden, use a plant with a repellent virtue of aphids.

 

Do not forget to mulch your vegetable garden as this will protect your future pantry.
Magnetic pots 
For those who do not have room to build a vegetable garden, they can opt for the magnetic pots to place on the wall of the kitchen.

 

You will always have beautiful herbs to flavor your dishes.

 

You will not lose any vitamins without mentioning the taste.

 

Indoor crops are not lacking to fill up with vitamins.