Cordyline: to plant in your garden
Pretty persistent shrub plant, the cordyline reveals a pace of palm. It can be grown very easily in the soil, especially in gardens that do not suffer from heavy frost and can be used alone or in groups. This plant reveals a perfect touch of exoticism. Tolerant rather well the spray, the cordyline also develops in a coastal garden. It is an ideal architectural plant on the terrace or balcony, put in front in a large tank.
Origin of the plant
The Latin name of the plant is c ordyline, belonging to the family of Agavaceae. This lovely Cordyline plant blooms between July and August. Its height can vary from 0.60 to 10 meters
Cordyline, also called dracaena, is a perennial arboreal plant. It should be noted that the genus Cordyline contains about 15 species of shrubs and small evergreen trees. The tallest trees reveal the appearance of palm trees. This plant grows naturally in varied habitats, clear woods, open hillsides, river banks in Southeast Asia, the Pacific and New Zealand. She also naturally believes in a dry and hot climate. This exotic chilly could acclimatize to oceanic regions or mild climate.
It should be noted that two species are traded, namely the rare C. indivisa and the widespread Cordyline australis or Dracaena australis. Very many varieties come from the latter species, such as Cordyline australis 'Red star' with bronze-red foliage. Namely, the species australis comes from New Zealand, it is one of the most robust.
The culture of cordyline
The cordyline plant can be placed in half shade as in the sun, it adapts itself to any type of soil, it must be well-drained, however. Rustic, the plant can withstand temperatures ranging from -5 to -10 degrees. It is a beautiful southern plant that enjoys the sun and a rather cool soil and drained in summer. You will preferably choose a location sheltered from the cold north wind.
Cordyline can be planted everywhere in France, however, it is grown differently from one region to another. It is truly a chilly plant to know that the strongest such as C. australis can withstand short frosts. This plant is easy to grow in regions with mild winters. If you place it in the ground, it will only be in Atlantic or Mediterranean climates. If you are in regions with harsh winters, the plant can be grown in a large pot, to go from the terrace to the veranda during the winter season.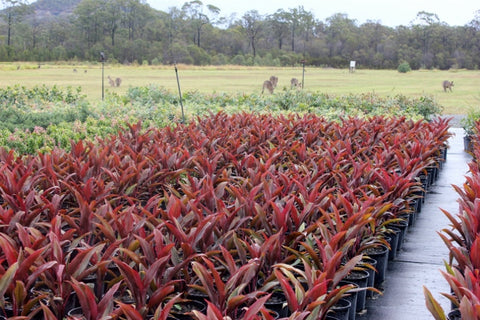 Its graphic silhouette is reminiscent of palm trees, offering a very nice touch of exoticism in the heart of the garden. The plant is unavoidable gardens and scenes of summer. In addition, it finds its place in the heart of Mediterranean-inspired gardens. It is true that the cordyline can be planted in the heart of a massif, just like an alignment tree, like a windbreak. You will also be able to admire the perfect colored varieties in isolation. In cold regions, the plant offers a contemporary note in terraces and balconies.
Size and maintenance of the cordyline
Wondering where to plant Cordyline? This exotic plant is perfectly adapted to warm climates. Supporting temperatures below 10 degrees, especially in a harsher climate, this plant can be planted in pots and then returned in winter in a greenhouse or low heated veranda. The cordyline does not like strong frosts reducing its life.